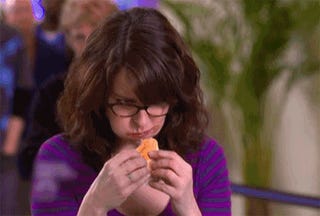 It was wrapped, of course.
I've been in my office all day and I'm HONGREEEEEE, like, about to pass out hongree...
...I finally got up to pee after holding it in for probably hours because going to the bathroom involves the possibility of human interaction.
And there it was...
...it was a golden opportunity to prevent myself from passing out by giving my body much-needed...nutrients...
...and for free, too!
TL;DR: FREE FEWD IN UNEXPECTED PLACES FTW!