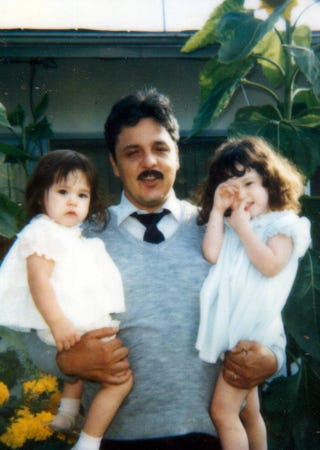 This is my sister, my dad, and me. Easter 1987.
---
I can't believe that Dad was diagnosed with his stage 4 pancreatic cancer on March 20th. Not even three months. That's insane.
Dad has stopped struggling to get out of bed since this morning. He is too weak now. He sits up and sort of pulls on our hands occasionally. I will stand him up and sort of sway with him for a moment, then lay him back down.
My mom and I had been physically struggling with him pretty much 24 hours a day for several days. Now that he isn't struggling it feels worse. I can take more breaks, but I also know that I will never have a real conversation with my dad ever again. The next development will be him slipping into a coma. He hasn't been very responsive to what is going on. He hasn't said much today. He said my name once. I spoke to him in Spanish and he called me Mom. I tell him I love him all day. This afternoon I said it, and he made a kiss face. I fucking lost it. My nieces came in and snuggle with a for a while. He pulled each one to him and kissed them. I am grateful for that.
Tonight the 4 year-old asked if he was going to die and I said yes. We talked about it for a while.
Later, she came and said she wanted to tell us something. We told us she could. She walked up to my dad, put her hands on each side of his face, kissed him on the forehead, looked into hs eyes, and very solemnly said, "you are going to die."
My sister was horrified. My mom and I waited until my niece left and burst into laughter, further horrifying my sister. Mom and I have been in the fucking trenches, so that was hilarious for some reason.
The priest is coming to do his Last Rites tomorrow.