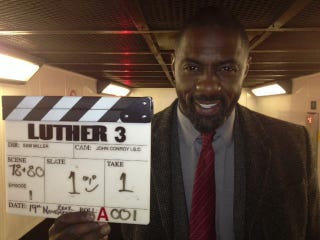 Ah, I'm so happy.
It was crazy and bloody and scary and dramatic and weird and I loved it.
I am deeply saddened by the fact that Paul McGann's character, Mark, appears to have dropped off the face of the Earth. Though I didn't approve of Indira Varma's Zoe being fridged, I did like the grudging friendship that emerged between Luther and Mark in the wake of her death.
But the main reason I wanted to post this was that I was talking about the show on ONTD yesterday, and someone argued that the fandom's love of Ruth Wilson's Alice is problematic.
Not just because she's a sociopathic murderer who has a deeply unhealthy relationship with the main protagonist, but also because this poster believes that she represents a troubling trend with shows that star minorities. Namely that the white co-star or co-lead (or even a minor character) becomes a "fan favorite." Justifications are made — "oh, she's so much fun" or "I love to hate her" or "I'm really just supporting a woman in a strong role," but that instead it's about a failure to identify with a non-white lead.
Now I'm not sure how much I agree with this. Picking a show at random, The Walking Dead has plenty of fans who don't and can't identify with Rick and don't find his motivations all that compelling. Meanwhile, they do love token asian minority Glenn or actively roll their eyes at the embarrassing side-lining of black characters on the show.
Then there's also the factor that "wacky" characters like Alice tend to just draw a lot of fans — particularly when they're dangerous or sociopathic. Look at Moriarty on Steven Moffat's Sherlock. Two white male leads, but Moriarty still has an enormous fanbase.
The point I suppose I'm making is that I like Alice because she's a wildcard and because we so rarely get to see women in this kind of smart, crazy psychopath role unless it's purely for a man. And then they aren't smart so much as obsessed with a man.
But, more importantly, liking Alice doesn't mean that I don't sympathize or identify more with Luther than with Alice or that somehow Alice's presence on the show is more important or more compelling to me than the show's titular lead.
Finally, without being too much of a pedantic jerk, I might even suggest that assuming that a fan's love of a "madcap, wildcard" character on a show starring a minority is racist is... racist in and of itself? Otherwise, again, how do you explain the similar love for Moriarty who basically plays Ruth Wilson's character on Sherlock?
Thoughts? Feelings? Hunger?