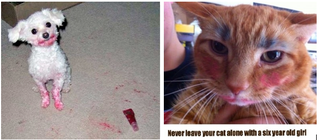 I'm a redhead. I've got super pale skin, freckles, and blue eyes. I'm 25, so I'm just starting to reach the age of considering wrinkles in my future. I'm about to start dabbling into the world of non-drugstore makeup, and I thought I'd look for advice here. I know we have a few redheads that might have some suggestions based on what works for them, and a lot of other ladies who probably have great product recommendations! I know that Urban Decay and Too Faced are having sales now, so the sooner the advice, the better! =D
I'm posting a few pictures of myself so you can kind of see what I'm working with. I go back and forth between glasses and contacts, so I tries to include both. I apologize for the bad lighting and bad everything else. They're selfies taken from my iPhone, so they're not really in focus, and a lot of the lighting is really warm, I think. For the sake of clarity (and since I couldn't for the life of me figure out how to get things formatted and aligned the way I wanted them to), I'll just say now—the first two are me with makeup and glasses, second two are with makeup and contacts, and last two are mostly makeup-free. But you probably realized that much.
I have no idea if I'm "warm" or "cool," nor do I know how to figure out such things. I'm not really sure how to classify my skin in terms of oily/dry/combination. It seems like my forehead is generally a little bit oily, but my nose (at least the sides of it) and the area around it tend to get very dry. I get a bit of flakiness when the dryness gets to be too much. I don't usually have a lot of acne—a pimple here or there most of the time (thank you, birth control!). I don't really have much of a skin care regimen at the moment. I've wanted to find some good moisturizer or serum, as I feel like I'm getting to the age where such things would be advisable.
I know I want at least one of the Naked palettes, but which one?! If I had my way, ALL OF THEM.
(Note: I'll probably go in and delete these pictures after I get some advice! Also, don't let the yellowish lighting fool you into thinking I'm not pale. Oooohh, believe me, I am.)
For the record, when it comes to coverage, I don't care one bit about hiding my freckles. =) I do, however, like to bring out my blue eyes, when I can.
So here are some of my questions....
What products do you swear by?
Which Naked palette(s) would go best with my complexion/eye color? I may buy two of them, so a ranking of them for my coloring would be SUPER useful. Do you recommend buying the Naked eyeliners?
What type of product is worth investing in? A good foundation? Primer? What?
What products aren't worth the hype and the money?
What products should you absolutely not be spending a lot of money on?
What are some of the best drugstore brand dupes you've found?
What drugstore brands do you actually find to be better than the "good" stuff?
How much of a difference do good brushes make? Are the pricy tools at Sephora worth it, or would I do just as well going with e.l.f. or Eco Tools? What brushes do you use and recommend?
PLEASE tell me what shades of things you think would look good on me! I have NO idea what blushes and lipsticks would flatter me. So recs on both specific shades by name and brand would be useful, as would general rules (i.e. look for peachy pinks for blush or something like that)
What colors should I avoid?
Suggestions on a skin care regimen would be great! For morning and nighttime. I'd love to hear what your daily skincare regimen consists of!
I was thinking about getting one of the many knock-off Clarisonic cleansers I heard about from someone on here. Any recommendations on brands and whatnot? TELL ME YOUR SECRETS.
BB creams… I've heard many tales of ordering it from China through Amazon or somewhere else overseas. I'd love to try some, but I'm wondering if I'm too pale for it. Anyone know how pale they'll match? How do I choose one?! Ahh!
For the pale people: What foundation have you found that works for you? I'm too fair for any of the drugstore brands. The best luck I've ever had was with Victoria's Secret VS Pro Soft Focus Liquid Foundation, SPF 20, in their palest shade, Light 10. When they went on clearance, I bought 6 bottles. Thank goodness for that, because they stopped making them shortly after. Now as I slowly get closer and closer to the end of my supply, I'm wondering what other brands carry foundation for those of us who are practically translucent.
What beauty gurus do you watch on YouTube? I could use some recommendations!
Wow. I know that's essentially a bazillion questions, but I appreciate any and every answer to any of them I can get from y'all. And I recommendations I get will definitely be written down for my next shopping trip… Have I mentioned that you are the best? I shall reward you all with some gifs of some of our favorite men (and women!). =D