Yay for makeup!
So far, I'm really into lipstick and eyeliner. Those are my jam - and serve me well on a daily basis.
I've always wanted to get into eyeshadow though. I just never knew how to make it work with my eye shape - I'm Asian, and though I have a double eyelid, it always felt too small to do anything cool. Eyeshadow just never looked right.
But! I found this awesome list of suggestions on buzzfeed (http://www.buzzfeed.com/peggy/awesome-…) and decided to try some of them out. So far, I've had moderate success with everything I've tried and I'm INSPIRED! But my tools are very limited. I have a brush for face powder and a couple for the eye - I have no idea what they're called, they were given to me, unused.
Here's where GT comes in. What are some of the face/eye brushes that make up a basic set? Should I just splurge on a set? I've watched my fair share of makeup tutorials on the ole youtubes but they all have so many brushes that it's kind of overwhelming. Any tips for a makeup newbie?
Here's a selfie with the evening's efforts that will destruct in a few hours.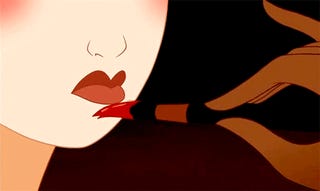 ETA: If only it were so easy to apply makeup...
ETA2: Thanks for all the suggestions! I am going to browse while I'm drunk and watching Iron Man, buy when I'm sober.