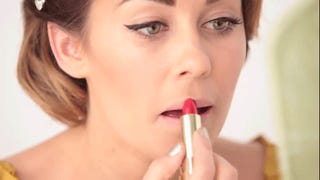 Since I'm having a shit week - not going to link to that post from yesterday - I want to post about something I love. CHEMICALS ON MY FACE. I love having this conversation with friends.
-First layer: Aveeno daily moisturizer with SPF 30 (I WILL NEVER AGE)
-Palladio makeup primer - this shit is genius, and pretty cheap. I live in New Orleans where makeup melts off your face, and this is my miracle-drug.
-Benefit foundation, Benefit LemonAID eye primer/concealer (mixed with a little Benefit Bo-ing because I am fair-skinned and yellow-ish). Benefit blush/highlighting powder. If I have some shiny spots, I'll use this Benefit powder.
-Nyx eyeshadow (this is not my exact palette). Don't be fooled by how cheap Nyx is - with a good primer, the shadow stays all day, and the pigments are AMAZING. Someone told me that's what the queens use on Ru-Paul's Drag Race.
-Maybelline "Falsies" mascara - I haven't tried too many high-end mascaras, but I LOVE this one.
I do good ol chapstick on my lips since I can't find a lip color I like.
I feel a little bit of patriarchy stockholm-syndome when it comes to makeup, but I love it!