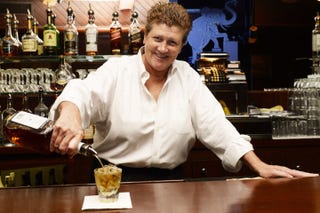 Donohue's is an upper east side joint, a throwback to the smoky steak-and-chop places of the 50s and 60s, where you wander in and it seems like everyone knows everyone else and they treat you like a new friend. It's a place that has put down deep roots in the neighborhood; people come there every day for decades, apparently, as did the gent in this article, and are treated like extended family.
Donohue-Peters, 53, remembers Ellsworth as a wonderful man and called the windfall very nice, "but I prefer to have the man here instead of that," she said.
The lady pictured (it's a bit simple to call her a "waitress" because she's a co-owner, but she's there all the time, running the show and glad-handing and just being everyone's mom) is kind of one of several masters of ceremonies around whom a cast of regulars orbits. The last time I was there the missus was supposed to meet me and was held up, so I sat at the bar and ended up engaged in animated discussions with an elderly lady in furs and a feathered hat who had the soul of a Trotskyite. It was around the time of the 2012 election and she had some choice thoughts about Mitt Romney that I was happy to co-sign. When she had had her fill of gin and politics she took her leave, and the bartender sang out "See you tomorrow, hun!"
But that's the thing. It felt like the agora, the neighborhood watering hole. You are welcome, you are a friend, but the price of admission is: talk to us and we'll talk back, and we'll take our measure of one another. Because this is the point. It felt a bit like "Cheers." Everybody knows your name. One of the reviews on Yelp says "Lots of characters but they're as kind to strangers as to regulars."And that sounds entirely right. Don't go expecting Peter Luger's; the food is... serviceable, comfortable, homey. But I don't think it's necessarily the quality of food that is the draw for the regulars. In some ways this is just a story about connections, about making our own kinds of oddball families where we find them.
I guess the gent who died was as rich as Croesus and 100 grand was akin to the money he'd dig out of his couch cushions when he was looking to tip the FreshDirect guy. That doesn't matter to me. It's still a grand gesture. A friendly, kind gesture to the people who, every single day for decade after decade, made his life just a little bit better and more fun and more connected to humanity. Good on you, sir, for remembering that.

On an entirely unrelated note, the spell-caster brigade seems to have followed me back to GT. Was it something I said?