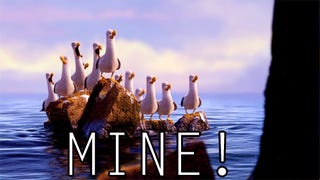 As folks who follow me know, I am very greedy when it comes to the men I like. I instantly claim them as mine and refuse to share unless a great compromise is reached. I would like to show some of those on my Mine list. Feel free to share your Mine! celebrities (whether male or female) below. I will fight you if you try to claim any of mine.
---
JJ Watt
A surprise to no one since all I do is declare my love for him on an hourly basis.
---
Sendhil Ramamurthy
---
Kit Harrington
---
Naveen Andrews
---
The New Zealand Rugby Team
---
Jadeveon Clowney
---
Jesse Williams
---
Jake McLaughlin
---
Michael B. Anthony (Shhh don't tell NinjaCate)
---
Charlie Hunnam (Xeos and I reached a compromise for him)
---
Idris Elba
---
Ramón Rodríguez
---
Sung Kang
---
The above are only some of them I have claimed as mine. Who do you claim?
(For purposes of fairness and transparency Everything is Tacos(Shiny) and I have an agreement that she gets to have Shemar Moore).
Beyoncé knows what I'm talking about: