Oh, the derpy actions of adults and their money.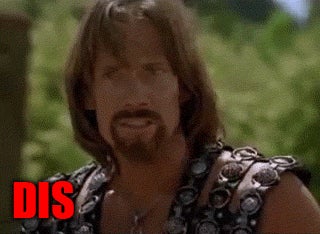 Like some of you, I work in customer service. I work at a tech startup and we use a ticketing system to handle inquires. I handle all the non-technical and light technical questions and pass the tough ones along to my colleague. This means I deal with a lot of cranky babies. Did I mention that they can rate their experience with us, which is then easily available to the general public? What could go wrong!
So earlier this week, I had someone who wanted to cancel their account and get a refund for this month's payment. No can do, friend, you have to cancel your account before the end of the month to avoid payment on the first of the next month. Our system is completely customer-facing, so almost any changes a person needs to make, they can do without contacting us. This guy doesn't cancel in time and so he gets charged. He wants his payment back, but we don't offer refunds (since customers control their own shit). I tell him as much and he gives me a bad rating, saying that clearly he hasn't been using his account so he should get a refund.
Excuse me, Mr. S. Snowflake, we do not monitor all of our accounts. Maybe it's clear to you that you haven't been using your account, but it's not on us to remind our customers that they haven't logged in in a while. If you decide to cancel your account, you're bound to our cancellation policy, which is easily available on our site and was something you agreed to when you signed up. American Apparel doesn't do refunds either – I don't get my money back just because I clearly haven't worn this gold lame body suit.
I don't even begrudge him for pushing for a refund – we did end up offering a credit. The problem is that he rated my ticket bad. Guy, I didn't decide on the no-refund policy. I stand behind it because it's easy to cancel your account with us and not be charged for things you don't want, but it's not something I have a say in. What you rate is not our refund policy, it's my service to you. I was polite, clear, and I apologized for the inconvenience. I was top notch. Ask to speak to my boss and give him an earful, that's how you change policy, but don't shoot the messenger. It's not the frumpy sales person at American Apparel who decided that they can only offer you an exchange or credit on your trendy granny glasses, it's the HQ. Don't give her shit for earning her rent. Don't give me shit for earning my rent. Don't make my company look worse because you didn't adult correctly.