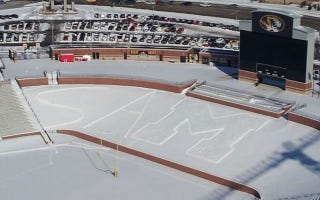 Michael Sam, the former Missouri defensive end who announced to the world on Sunday night that he's gay, is getting lots of support from a lot of corners. He's getting tons of support from his alma mater, where they kept his sexual orientation under wraps for an entire season.

That support includes an awesome, albeit simple, piece of snow art on Faurot Field in Columbia, Missouri.
http://www.cbssports.com/nfl/eye-on-foo…
Nice job, Mizzou fans.