So, (in addition to my tireless Photoshopping duties for Groupthink), a huge part of my job IRL is to update our Facebook, Twitter, Pinterest, Reddit, etc. etc.
I seriously cannot tell you how emotionally draining dealing with the general public through social media is. A day of posting news stories and links to a social media site will absolutely kill all your faith in the human race. You will literally become a character in a Cormac McCarthy novel.
I just had to share this with you, GT. Because I have so many days filled with head-desk in my office.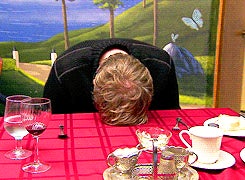 We posted a story about a terrible dog mauling* that happened in our town. So sad. One man died.
I don't believe in HuffPo teases for news stories because it's not cool to be all "A major fire just destroyed a downtown building; click here to find out which one!" I don't do that shit. I'm pretty concise. The social media post was basically this:
"Sad news from City today. A man in City has just died as a result of being mauled by a stray dog. More on this story here www.checkthelinkfuckstick.com" **
So a lot of people were like "Wow, so sad." Because a guy died and yes, it was really sad.
Except, for one guy. Who apparently only has the physical ability to read the first sentence of a Facebook post. Maybe that's a medical condition. I don't fucking know.
He started posting this shit, around 9 a.m.
"What happened?"
I did not know how to respond. What happened? Well. See. A man died. After being mauled by a stray dog. Annnnnd everything else is pretty much in that post. So I just let it be.
10 minutes later:
"Someone needs to tell me what happened!!!!"
Umm. *looks around for some fucking sanity* Whut.
15 minutes later:
"This isn't funny! I lived in City for 10 years, and I need to know what's going on! Someone please TELL ME WHAT IS GOING ON! Stop playing these games and tell me what happened. This is unprofessional."
Literally a minute later:
"I have family in City!"
[BURT, DON'T BE A SMARTASS AND ASK THE GUY IF ANYONE IN HIS FAMILY KNOWS HOW TO READ THREE GODDAMN SENTENCES ON A FUCKING FACEBOOK POST. DON'T ASK HIM THAT. STOP IT, BURT. JUST GET AWAY FROM THE KEYBOARD.]
So then, a kindly person with a lot more restraint and patience jumped on posted this reply:
"A man got killed by a dog in City. The dog was stray. The link to the article they posted explains it www.exactlysamefuckinglinkIjustposted.com "
So then he posted this response:
Oh thank goodness. Where did this happen?
.
.
.
.I JUST DON'T EVEN KNOW. I GIVE UP. OK? I JUST FUCKING GIVE. UP. I'M TAKING MY VODKA AND WE ARE LEAVING. DON'T TRY TO FOLLOW US, OK? WE ARE DONE WITH YOUR SHIT, WORLD.
*Not the real post, nor what really happened. Story disguised to protect identities, etc. Also, this is from quite a few months ago, maybe longer.
**Again, not the verbatim post.