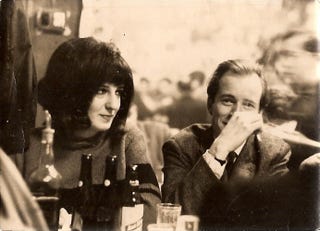 Groovin' in Europe in 1966 with my future dad.
She defied my very strict grandfather at 22 years old and got on a plane to run away to marry my dad in Spain. They spent the decade being cool and bohemian and traveling around for several years, before us kids came along. I love this picture of them in some anonymous smoky bistro, who knows where, a table full of wine bottles and surrounded by friends. She in her signature beehive and eyeliner, and my dad in full Don Draper mode. They were crazy about each other.
Right now, I'm sitting here at the nursing home with my grandmother, my mom's mom, who is bedbound since a stroke 6 years ago. My grandma keeps calling me by my mom's name, but that's ok. We lost Mom suddenly 3 years ago, and today has me missing her very much and getting very sentimental which led me to digging up this picture and wanting to share her.
Let's see your awesome moms!