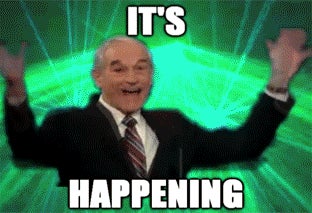 I'm over the fucking moon. It was NOT a spectacle. We just had a discussion while walking home from the bar. He was very deliberate about it but in a sneaky way. I didn't see it coming.

We're going to go shopping for rings together so I don't have any pictures to post. You guys are the first people I'm telling!!

Shit, guys. I have found the person with whom I want to spend my whole life. I knew he was the one years ago.
So now I've survived my first year of medical school and I'm getting married!
AHHHHhHHHHHHHHHH! *is literally dead*
ETA: since this post is getting a lot of traffic I am re-stating my intent to take June 12 off so that we can all watch the new season of OITNB together. Y'all should put in for a sick day and I'll post the threads for spoilery and non-spoilery convos all day.