Greetings! I realized a couple days back that I had been granted posting privileges, super exciting! SUDDENLY NOTHING TO SAY/SHARE. I've also been sick, and illness isn't conducive for cleverness or clarity(at least for me).
A neat thing happened today, a neighbor-girl came over to play with my daughter INSIDE MY HOUSE! That mayn't sound neat to you, so here comes the context.
We've lived here for 1.5 years, and the geeklets met these particular neighbor kiddos almost immediately. They played outside at first, and soon, glamgeek(my 7yr old) was invited into their home to play.
I kinda wondered why glamgeek's friend never played over here. I told her to invite her over, and she was rejected by the mom. I figured they were busy, they have 5 kiddos, and the mom runs an at home daycare.
Another time, I saw the mom outside and told her we'd love to have her daughter come over to play, have dinner, or a sleepover. The mom stuttered through some lame reasons that boiled down to no.
I learned through other neighbor's that the family is LDS, so what happened next took me aback. One Sunday morning, I was on my porch (which is next to the carport, the neighbor's live directly across from us) having a coffee and I could hear them getting loaded up for church. My SO parked his work truck weirdly and they were wondering (out loud) who the truck belonged to. The dad says, 'Maybe the people across the way?' And the mom replies, 'Oh, with the woman who desecrated her temple, glamgeek's mom?'
I don't know if it was pregnancy hormones or what, I cried. It really hurt my feelings! And then, I was angry. I knew why her kids couldn't play at my house. Because I have tattoos, and they think I'm a sinner. They had no idea i heard them either.
I've continued to let glamgeek play over there, have sent snacks, and whatnot. I don't want to punish the kiddos because of parental views. The girls enjoy hanging out.
So, jump to now-ish. Glamgeek is now attending the same school, and they've been walking to and from school together. I saw the mom a few days ago and thanked her for letting my kid walk with her kids. I complimented her daughter's high level of responsibility. She actually smiled at me! She never even says hello.
Today, her daughter was given 30 minutes to come inside my house and play! I was so excited. Maybe she likes me?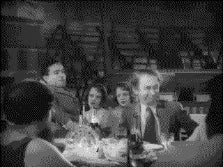 I'm feeling all sorts of validated! Now, to become unsick.
***Huge thanks to all you gt folks who have welcomed me, and helped me navigate the kinja system. You all rock my socks!