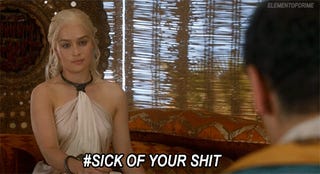 Update: As suspected, other than boxes of books, I left pretty much all of the stuff I left because I DIDN'T WANT IT. Also, that house was home to some very selective moths. Moths that eat wedding dresses that are in plastic, but NOT the recital gowns right next to them. Huh.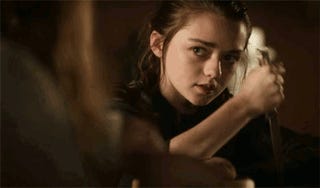 I have also learned that his parents did all the packing up of all the stuff at the house, and that they didn't get any more notice than I did. I have also been informed that yes, the bank has to give you thirty days' notice that you have to vacate. So nice to know he's screwing his parents over just as much as he's screwing me over.
OH AND FURTHER FRAKKING UPDATE: WHY WAS HE EVEN PRESENT FOR ME TO GO THROUGH MY SHIT? DID HE THINK I WAS GOING TO TRY TO TAKE SOMETHING OF HIS? BECAUSE I'VE GOT NEWS FOR HIM: HE HAS NOTHING I WANT. NOTHING.
---
5:00 eat Panera salad at desk (done. It was noms. Peanut Sauce is indeed God's greatest gift to mankind.) Also exchanged texts with Schroeder. He mentioned having a bad day, I suggested that I would trade him a sympathetic hug for a sympathetic hug. Haven't heard back. Trying NOT to decide I freaked him out.
6:00 prepare for rehearsal. In process.
7:00 rehearsal with middle schooler who is singing on Sunday. She'll be lovely.
7:30 - 8:30 choir rehearsal. much with the singings.
8:45 arrive at Asshole's Parents' home to pick up Nanobots.
9:00 go through all of my stuff that they have removed from our house in order to decide if there's anything else I want to keep. This must be done today. They are setting up for a yardsale tomorrow. I was informed that the house must be vacant on Friday (5/23). So, I got less that a week's notice to make sure all my stuff was out. Obviously, I couldn't go get anything over the long weekend because he was there with the Nanobots. So, because of his timing, I had two possible days to gather/go through my stuff: Tuesday and today. Tuesday, while he was at work, I was working, making up for the holiday on Monday. Today, during the day, I had several appointments, and also, was working.
This should be a holly jolly evening.
When your home is foreclosed on and they finally make you vacate, don't they have to give you more than a week's notice?