As the 12 year Reign of Bloomberg grinds to a halt, we New Yorkers are starting to hear the pitter patter of mayoral candidate hype. You've got Christine Quinn, the lesbian City Council Speaker whose propensity for raging gripes and punishment has slighted Dems and fellow LGBTQ constituents. (She apparently cut funds for an immigrant student scholarship program —yikes!) There's John Liu, who, for all his dropping "Insh'allahs" whilst defending Muslim community groups against police surveillance, he's embroiled in a full on scandal! Two of his former staff have been convicted "of attempting to funnel money to the Liu campaign through an illegal fund-raising scheme." Then, there's Bill Thompson. He's like the strong, silent, older man type. However much that works, in politics I want more life.
But not that Anthony Weiner type of pizzazz. Even with the New York Times magazine buzz—in an article named for Lifetime— "Anthony Weiner and Huma Abedin's Post-Scandal Playbook—"
—The whole time I kept thinking:
Dear God, she's so smart, accomplished, worldly and beautiful. Why on earth is she with him? Why?? WHYYYYY?
I have a soft spot for women like Huma Abedin. But not soft enough to want her husband tweeting money shots from Gracie Mansion. Neither do the Clintons, apparently, according to the (un)believable-ish Page Six.
Other soft spots of mine include love-at-first sight, multiracial families, and strong opinions. One mayoral candidate's partner, Chirlane McCray, says things like:
"I am more than just a label. Why are people so driven to labeling where we fall on the sexual spectrum? Labels put people in boxes, and those boxes are shaped like coffins."
The candidate is Bill de Blasio.
He's the former Public Advocate of NYC, which, in case you forgot (or never knew), is the office that serves as the city's "watchdog, ensuring that all New Yorkers receive the City services they deserve and have a voice in shaping the policies of their government." He's worked on affordable housing, child care and organized a successful coalition to win back millions of dollars in classroom funding slated for cuts by Mikey Bloomberg's administration. Russell Simmons recently endorsed him, for those of you into Russell Simmons.
Chirlane McCray's piece in Essence, entitled, "I Am a Lesbian," was on a seriously radical tip back in 1979. She wrote earnestly:
"I discovered my preference for women early before getting locked into a traditional marriage."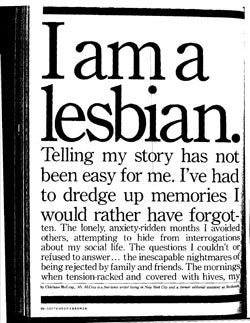 Essence's Linda Villarosa checked in with McCray for Interview Part Deux, to get candid and dispel assumptions with a quickness. In the interview they get into how McCray met Bill de Blasio at City Hall, while working on the Commission for Human Rights. Between his tall stature and her funky nose ring—they were hit by a thunderbolt, Michael Corleone style.
I'm mad at the mainstream for tagging her the "FORMERLY LESBIAN WIFE" —the words sound hideous and passé strung together like that. I much prefer her way of describing the state of affairs, the fluidity of love.
Says de Blasio in the Wall Street Journal: "My family life has affected my understanding of everything I do in public life. This is kind of the core of how I define myself."
With a family this dang adorable...
photo credit: Kate Orlinksy, Wall Street Journal
And this lovely lady at his parties:
photo credit: Kevin Mazur, Wire Image
My vote's with you, B.
Hugs, @tanwinandini