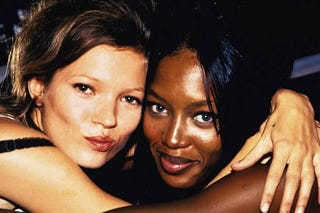 Naomi Campbell wrote an article about her famed 15 year friendship with Kate Moss in the Standard. I'm not particularly into either of them so I'm not sure why I clicked but I'm glad I did. It was quite sweet, and with all the talk about how women are catfighting, jealous, bitchy, demon wenches it's wonderful to read a sincere letter from one grown woman about her friendship with another woman since they were teenagers.
On the beginning:
I first met Kate Moss in Los Angeles in 1992. She was 15, I was 18. It was a brief meeting but I remember her being strikingly quiet, she hardly spoke. She can be very shy at times — if she doesn't know you she doesn't speak. The other striking thing, obviously, was her beautiful face. I knew she was special from that first minute I saw her.

Some months later in 1993 we were both working in Madrid and that's when I kidnapped her. I said: "You can't be here on your own! You're coming with me." That was the start of a long friendship.
Both women are known for their working class roots. On that topic:
What's Kate like? Well, she's honest, loyal and straightforward. There's no bullshit. She's not pretentious in any way. What you see is what you get. I love that about her. After all, we're both from south London — I'm from Streatham, she's from Croydon — and from working-class families. She's never tried to be anything else and nor have I. We know our roots.
On true friendship:
And obviously Kate and I have seen each other through the good and the bad. Kate has stood by me through it all. You can count on your hands the friends who'll be there for you in the tough times, and she's one of them. We can sit down and laugh about things, but she's also respectful and mature.