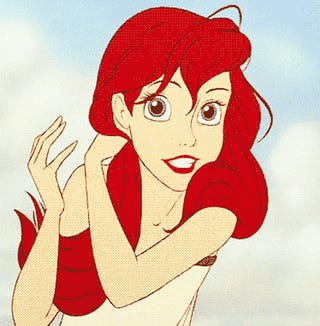 My dear interweb sistren, I am in need of girly advice. I have, of late, felt more of a desire to look my best, possibly because I have just recently realized that "my best" is not, in fact, a swamp creature, as I had previously been led to believe. So, any thoughts on what products would be helpful? Techniques? I really don't know much about hair/make-up in general, and have always tried to keep my look fairly natural, which is something I would like to keep to. Natural, but, you know, purty.
Particulars: I have very fine hair, which is generally stick-straight and mousy, and likely to look like a dead thing on my head. It is currently in a fairly basic chin-length bob which can frame my face nicely if I can get it to cooperate and not fall flat. More than one product in it at time (ie, root lifter and hairspray) weighs it down like Jovian gravity.
Skin/coloring: very very fair and sensitive and likes to break out for non-mineral foundation. Mousy brown hair and hazel-green eyes. Freckles.
I really don't have much money to spend on this kind of thing, so as great as it may be, if it costs too much it's just not feasible.
Help a sister feel awesome, please?