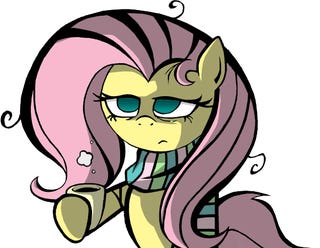 I'm all dressed up in my New Years Eve outfit... if you can count black slacks and a sweater as 'dressing up.' It's going to be below freezing tonight, though, so I don't really have a choice.
I have a closet of cute dresses, but none of them work for really cold weather. Even with tights, I'd still end up shivering half the night. All it would take is my husband wanting to hop to one bar, and I'd turn into a popcicle. Nothing sexier for a midnight kiss than your wife who died of hypothermia a few minutes back!
I could wear a cute top to go with the slacks, but I have to be realistic. I'll just end up keeping my coat on all night since restaurants around here tend to be insanely cold on New Years.
And shoes... Instead of cute shoes, it'll be some boots that will allow me to wear socks. They're sort of cute, but damn, they're nowhere near these adorable flats with the sequins and velvet.
Then again, I don't have to shave.
... You know what? Go Team Cold New Years Eve!