So last Saturday was my birthday. I got a package from Amazon on Thursday. I assumed it was a gift from my parents and because I'm a huge dork, I set it aside to open on my actual birthday.
Cut to my actual birthday- My husband did not get me anything (this is my fault, I told him I wanted a pick out some nice fancy pots and pans and he could slowly give me a whole set, but I have yet to pick them out). I open the gift and it is awesome, but it is not from my parents. It's from my swap mate!
I didn't get anything from my parents until Monday. And that is how the only gift I got on my birthday was from GT.
And no, I can't show you what it is because I have to make it first. :P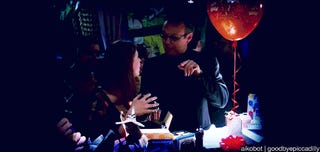 THANKS JINXIE JADE!!!!!