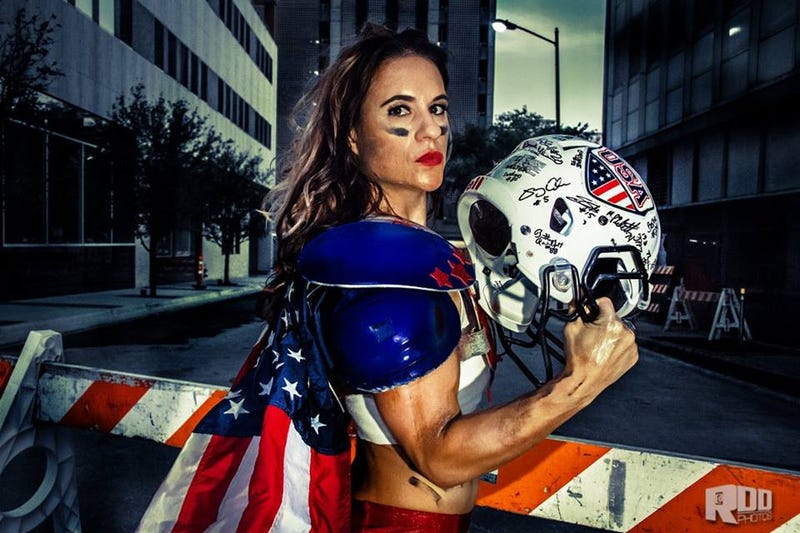 My cousin plays for The Texas Revolution, they are an Indoor Football League team. I've liked them on Facebook since my cousin got signed, to follow his games. Today they posted this-
Alright Fans its time for the big announcement! We will be hosting a press conference on Friday afternoon at Crest Cadillac in Plano. At this press conference we will be announcing the signing of the first ever female professional football player (non-kicker), Jen Welter. Jen plays for the US National Female Football team, where she is a world champ! Jen will be signed as a running back for us and will be brought into camp to compete for a spot on the team. In addition she will be playing in the #SeasonPremiere game on February 15th, wearing a special, unique, pink-themed uniform.
I was SO EXCITED that they brought a woman onto their team. I was nearly clapping and cheering until i read "wearing a special, unique, pink-themed uniform"
Umm why does she have to wear pink? Why can't she wear the same uniform that the rest of the team does? Will guys be easier on her because they see the pink, or will they hit her harder because of that? I have so many feels right now. I'm not as happy as i would be about this if she didn't have to wear a special uniform the first game. Should i pick my battles? Should i be happy that they are letting a female play and not complain about them treating her differently? It's almost a step in the right direction.