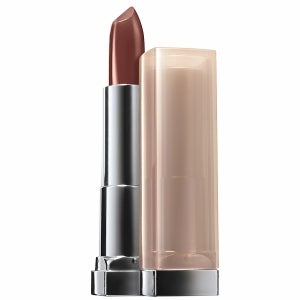 Life has been kicking my ass lately, so I'm looking for some mindless makeup/clothes/jewelry escapism. Whatcha got for me?
I'm over 50 years old and am all kinds of psyched to have finally found MY lip color. Pinks wash me out; corals suck because I hate anything orange or orange-adjacent; never found a red that actually works. Then I stumbled on Maybelline Untainted Spice and honest to God, it's perfect! It looks great if I wear nothing else and it looks great if I do the whole-face makeup thing. I feel like I should buy a zillion of them to last me the rest of my life.
I recently had an unexpected trip where I had zero time to prepare or pack so I had to buy everything once I arrived. Only had time to grab whatever I could find at CVS and it turns out I now have an amazing collection of drugstore makeup that works great and I can do it all in 5 minutes. A goofy little experience that has made me indescribably happy.
Maybelline lipstick in #950 Untainted Spice; Almay One Coat Mascara (it really needs 2 coats but whatev) in #421 black; L'Oreal Infallible Pro-Matte Foundation in #102 Shell Beige, that I really use more like a concealer, just in spots where I want to cover up my redness; Maybelline Color Tattoo eyeshadow stick in #725 Bronze Truffle; and Maybelline Brow Drama in Deep Brown.
I'm here for your beauty stories, new shoes photos, or anything else that you want to share that will help distract me for a while! Thankyouthankyouthankyou.