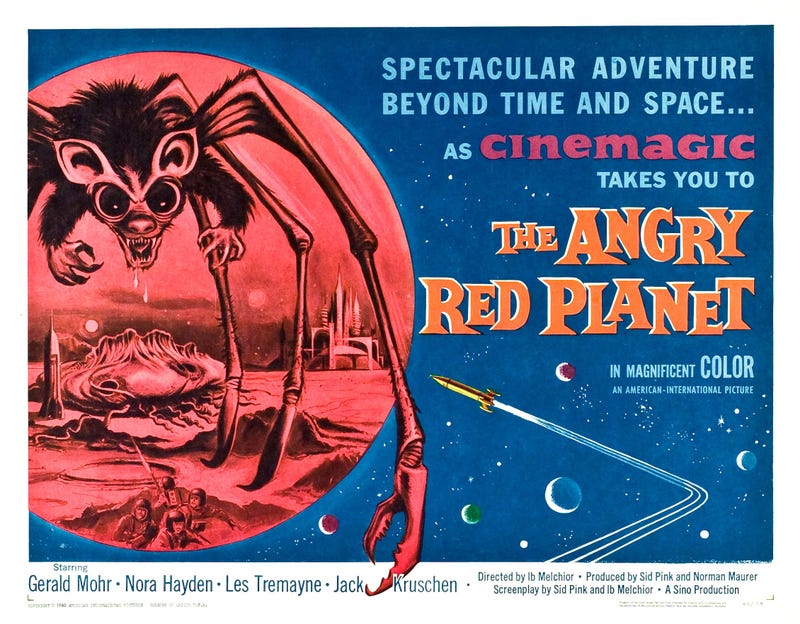 FUN FACT UPDATE: Lead actress Nora Hayden is only one of five credited actresses in the entire movie, and the only one to play a "non-traditional" female role (since she's a scientist. I have a feeling she's going to be the only one screaming, though).
Ok, so maybe we're not going to do Plan 9 From Outer Space today. Partly because Netflix doesn't stream it (fuck you, Netflix! I love you...), but mostly because because I found THIS masterpiece. Watch the trailer and prepare to get excited:
Join me, Gerald Mohr, Nora Hayden, Les Tremayne, Jack Kruschen and the glorious magic of whatever the hell 'cinemagic' is tonight! Details and links to previous below:
TIME: 5:30pm Pacific / 8:30pm Eastern Note: This is the film start time and will be announced so that everyone can stay as close together as possible. Live Tweeting & Open Thread begins at 5P/8E!
FOLLOW:
Here on GT: The tag is 'Bad Movie Monday' and the post will be periodically updated and bumped throughout the movie. Discussions are totally up to you and I will reply as I can. But believe me on this score: the movie includes GIANT ANGRY BAT SPIDERS - we'll have much to discuss.
On the Twitter-machine: Follow me @womanoffiction and the hashtags #GTBMM and #AngryRP. Twitter contributors from last week were @JessPhilopater @letsbeTRBL and @lobomerengue! Want to be listed in my compendium of contributors? Come and make us laugh (again, there are giant angry bat spiders - this should not be too difficult)
Have a question or tidbit you want shared? Email me here: literarycatstakenoshit@gmail.com - Please do mark it as Bad Movie Monday so I don't toss your missive.
FUN STUFF:
* Nearest I can tell, "cinemagic" may just be a pink wash suffused over the entire film, much like accidentally putting your red underwear in with your whites. But it totally makes sense, because it's Mars. Duh. Of course everything is red on Mars. Even the film.
* NORA HAYDEN (aka Naura Hayden), the lead actress and scientist in this film, is relatively unknown, but still managed to put together something of a guest star career on early television, including stints on shows like The Millionaire, The Real McCoys, Bonanza, Gunsmoke, and Miami Undercover. She also appeared in a movie titled The Parisienne And The Prudes, which sounds just fabulous enough for me to watch. Angry Red Planet is her only starring role.
* Lead actor GERALD MOHR, however, should be recognized by a fair few people out here: he was Mr. Fantastic on the original Fantastic Four series (1967-68), played four separate characters on Perry Mason, was DOC HOLLIDAY on Maverick, a member of the Sharks in West Side Story, starred in the 1954 series Foreign Intrigue, was the voice of the narrator on The Lone Ranger (1950), AND played Captain Delgado in one of my favorite films of all time, Gilda. I still love when she does that shit with her hair.
* Co-star LES TREMAYNE, however, totally blows Mohr's Perry Mason character record out of the water: he played eight separate characters. Check this out: