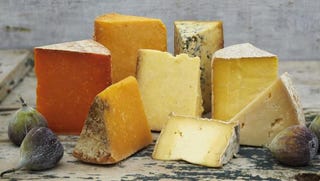 Courtesy of Buzzfeed, I present: your cheese horoscope.
I got "bianco sottobosco, a rich blend of cow's- and goat's-milk cheese from Italy mixed with bits of black truffle." I have never heard of this and don't plan on shelling out for truffle cheese anytime soon, but I guess it's nice to know my cheese soulmate is out there somewhere.
I'm terribly jealous of all you Libras, though. Raclette is awesome, even if the idea of a machine that exists solely to melt cheese makes my inner Alton Brown cringe.