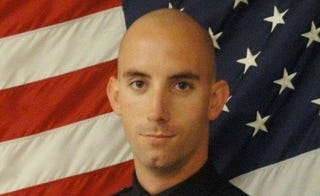 Don Allen, an off-duty Abilene officer was murdered in his home and found Monday evening.
Quick police work involving local authorities, the Texas Rangers and the FBI have led to the arrest of Philip and Violet (also reported as Violetta) Walters. No motive is known at this time. Items stolen from the residence were found in the Walters' possession.
I'd like you to play a grim little game with me. Let's guess how much coverage and more important outrage this particular senseless murder will now garner outside of the local area with the #bluelivesmatter crowd.*
I'm going to go with 5/10 on the outrage scale. Mrs. Walters is possibly a WOC of Mexican descent, which raised my initial guess of 3/10.
I had two distinct disturbing thoughts upon reading of the arrest: Thank god it was not a black Person/s of Color , and I'm pretty sure roughly half of my fb feed who are "turning it blue" today are slightly disappointed in that fact.
Also, has anyone seen any "I stand with law enforcement AND #blacklivesmatter" memes?
*I would like to add that I fully support our law enforcement officers and this murder is simply terrible. In no way do I mean to make light of the murder, and of course the suspects are presumed innocent until proven guilty.
UPDATE:
Apparently Officer Allen was specifically targeted because of his occupation, but not as a "hate crime," rather an opportunistic one that could only occur when he was home. It appears they targeted his police bag/kit:
The items that are still currently missing include:
*- Glock 22 (.40 handgun)
*- Duty belt
*- Police radio
*- Can of pepper spray
*- Stinger flashlight
Somewhat sobering.