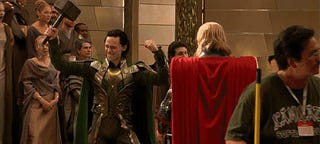 Well the glorious saga of The Unwelcome HouseGuest is almost at a close, only awaiting the finest Indian viands to be consumed with gusto and a final electronic missive that will no doubt enrage and baffle UHG.
I think some people might have missed their moment of glory (Is Remedios Varo too busy gussying up for her gig to accept an award?), so here's a recap of the winners:
#1 Steals food: BelleFemme
#3 UHG gets kicked out (or BB stays the distance):
Know'm sayin'?
Notorious GIGI
SunshineDay-lost-her-burner
#4 dirty laundry: Ordinarylove
#5 Emotional Dump: mcstabbypants

#6 Quit It & Hit It: NomNom83
#10 kid competition: BelleFemme
#11 Hits on/inappropriate with Mr.Beaver:
BelleFemme
CajunGinger
#12 Internship was a ruse: Remedios Varo
CONGRATULATIONS EVERYONE! THANKS FOR PLAYING
(Seeing this pic makes me think that future hosts of UHGs might consider going all Samuel L. Jackson in Pulp Fiction on their asses.: Well, I'm a mushroom-cloud-layin' motherfucker, motherfucker! Every time my fingers touch brain, I'm Superfly T.N.T., I'm the Guns of the Navarone! IN FACT, WHAT THE FUCK AM I DOIN' IN THE BACK? YOU'RE THE MOTHERFUCKER WHO SHOULD BE ON BRAIN DETAIL!
Without a doubt, the winner amongst winners, is BelleFemme. Clearly she's the QueenEntitlement-Whisperer.
And while the other winners take turns thanking their families, their agents and Jesus, let us ponder the things NO ONE WOULD HAVE GUESSED IN A MILLION YEARS: IHG getting BB to pay for her dinner the last day; giving SmallBeaver a gift that she then asked BB to pay for at an inflated price.
The world will little note nor long believe what was said here but it can never forget the fucked up repugnant shit UHG did up there in Canada