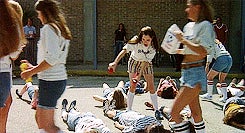 I want to get this out of the way first and foremost: You do NOT have to continue to support me vocally. I get that a "star" is a "hug" in a way, here. I know how draining this shit is, trust me. AND if you haven't/don't support me, I still love you. Thank you so much for not telling me to STFU. I appreciate it. So the opener gif is for all of you, whether you've suffered with me, or just suffered through me.
So we had a big win the other day. 2 were asked to kindly never step foot on campus again. (If you wonder why I'm not using the easy/direct words, it's an effort to keep this as non-google-able as possible.) If you know the situation, you know it. If not, you can probably guess the gist of it, given our focus around here on the way some campus things are(not) handled.
So anyway, here's the gofundme. Share it wherever you can share it, because I'm back to thinking we're going to need every penny, one way or another.
The asshole aka "videotaper" to most of you was given a two yr suspension. It does at least cover the time daughter will take to continue her degree (which she IS planning on doing now! YAY!) but it is NOT good enough. He needs to be told to leave. He needs to find himself staring down a civil suit (if you wonder why I'm adamant about this one, it's because he's the instigator; no one would've known her name if not for him), and he needs to face criminal charges.
We can only handle so much of this. It is absolutely killing me that the one MOST responsible was found "not" responsible of rape. Instead he was found responsible for other charges against him, clearly lesser charges. And I'm sick. Because it limits her appeal possibilities, it limits his punishment possibilities, and it AGAIN tries to hold a girl responsible for her own assault.
This can't, it just CAN'T happen. I have it on decent authority that his side won't appeal the suspension. But it's Not. Good. Enough. I am planning on bringing Big Deal Lawyer (BDL)(maybe even BFDL, as I just perfectly unintentionally typed) fully into the loop now, I think. It's time for his letterhead to show our hand, rather than just be billed for every email he reads. (I love BDL. But I know I get billed for that, and as of yet we haven't "moved.") I'm torn and am waiting on advice from him.
I'm kind of falling apart today BUT you know I won't stay that way (but I appreciate the numerous opportunities y'all give me to do so, in a quiet place "away" from our home-base of operations). We're going to kick ass. It's just that g-dammit, it's taking so long to do so, all over again.
So that brings me to some updates on Daughter. She's exhausted. She's working a $5 an hour job (bartending-ish - without the decent tips but with the <minimum wage per hour), her bf was fired from his IT position at the school (suspiciously, about two weeks after she reported and he was interviewed for the investigation) and hasn't found a position yet so she's supporting them both on a $5 an hour job & meager tips. Classes are set to start in a week and a couple of days and here's hoping.. I don't even know. Here's hoping.
I'm ok. Tired, but I've also been eating for shit so it's no surprise. Good news is that surprisingly, I'm not really drinking at all, which if you know me, you know is both truly surprising and awesome. So if/when I joke about vodka, it's ok, I actually had the first mixed drink I've had since forever last night (a very pretty, very girly Sea Mist) and had no interest in having more than, ahem, three. (We were out to dinner after a volleyball tournament with my youngest and stuck in the bar waiting for a table and I'm not going to lie, they are soooooo good, y'all. And our fantastic bartender gave me the first one on the house after I complimented the color when she'd made one for someone else. She just flat gave me a full drink saying "eh, it's the leftovers from the one I just made.)
In short, more please: