First thing:
I'm seriously considering joining OKCupid. I know a lot of you use it. However, it's quite (sorta) early here, and I tend to have half-baked ideas in the morning. But in all seriousness, I need advice about this. I would like to date more (I've only been on one date in my life), and I just think it would help me get over my fear of talking to guys. I haven't visited the site, but I have some ideas I would put down as 'interests' and a bit of an idea of what I would say about me. Here are my 'musts'. Warning: contains smoking, please don't crucify me about that!
Lives close to my location (Beverly Hills, Brentwood, Bel-air, Santa Monica, West Hollywood, or even my town-I just kinda gave away my neighborhood here).
Smoker. Yes, I smoke. My bad.
Enjoys watching movies-foregin, blockbusters, action, anything based on comic books, comedies. Anything but sappy rom-coms.
Educated and witty.
Good sense of humor, a bit goofy.
Likes to read. Specifically Hunter S. Thompson, etc. Able to tolerate my obsession with Hunter S. Thompson.
Age between 22-25. I like older guys, but not anyone that could be as old as my dad.
Occasional drinker, but not to the point of excess. Also likes champagne. Or whatever.
Likes the cocktail scene rather than the techno rave scene.
DRUG USERS NEED NOT APPLY.
No assholes.
Keeps up with current events.
Good conversationalist.
Kind and compassionate.
Tolerant of someone who is awkward and kinda terrified of intimacy. And patient and understanding of that. I'm not a virgin-TMI-but I haven't really done anything relating to sex in 4 years. Because I freaked out during my first time. Also able to like a 'goody two shoes'
Would be understanding of someone in therapy (not going to tell him that off the bat).
Likes history, literature, et al.
Geeky.
Will be able to understand I'm a full time student in college.
No deadbeats. Would like someone who is ambitious and driven, with a job. Not to the point of narcissism or being a total dick.
If he looks like my famous guy crushes, that would be cool. But looks aren't everything.
NOT A CREEP/STALKER/SERIAL KILLER.
Cultured and likes to travel.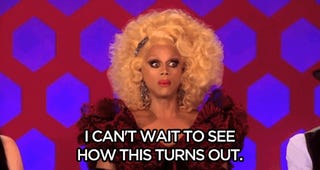 Are these too specific? Are these unreasonable? Are there guys like this out there? And if I don't like him, how do I tell him to step to the left? That's VV speak for back the hell off. What are your experiences?
Second thing:
Is there a group of Jezzies that live in the LA area and meet up regularly? I heard there is such a group, but I have no idea where to find it. I'd love to hang out with y'all!