They are chanting "let her speak, let her speak" right now!
If you aren't watching right now, you should be!!
FILIBUSTER IS PROBABLY OVER :(
UPDATE: Dems have challenged the rule of the Chair. Debate is about to start on appeal. They need to stall until midnight central time.
I will update this post with developments as they happen with the current attempt to appeal the chair's ruling. I am riveted!
UPDATE 2 (11:51pm ET): They are conferring on the objections to tabling the motion. Your sound is fine!
UPDATE 3 (12:09am ET): Lt. Gov (prick): A motion to table may be applied to any motion, appeal or motion to reconsider. He says he has the authority to rule on motions from members to close debate.
With that explanation, the objection to the motion to table is overruled (He's trying to give it to the GOP to close). Sen Zaffirini is questioning his ruling anyway.
UPDATE 4 (12:16am ET): Sen Zaffirini is straight up arguing with the chair. SHE IS BOSS.
UPDATE 5 (12:19am ET): Sen Watson (Dem State Senator) trying to appeal to the GOP not to vote to table. Predict more stalling tactics from Dems. 41 mins left until special session is over.
UPDATE 6 (12:29am ET): Sen Watson still talking. He is awesome, and been helping Sen Davis keep going all day. Earlier this afternoon, he basically testified for about 45 mins by phrasing his points in question form. All Sen Davis had to do to answer to his long, drawn out questions was answer yes or no.
UPDATE 7 (12:37am ET): Sen. Estes (R) just tried to silence Sen Watson (D) by moving for a vote. Sen West (D) requested per Senate rules that the request be made in writing. Sen Estes had no choice but to agree and is writing out his request. T-minus 23 minutes!
UPDATE 8 (12:39am ET): Secretary calling the roll to move the previous question. Stall Dems, stall!!
UPDATE 9 (12:43am ET) : Issue before them is that president's ruling on the point of germaneness stand. Roll Call vote: 19 yes, 10 no. President's ruling stands. GOP ruling previous question!! NO!!
UPDATE 10 (12:47am ET): Sen Van de Putte: "Mr. President, at what point does a female colleague need to raised her hand to be recognized over her male colleagues in the room??" GALLERY IS GOING CRAZY!!!
GALLERY IS GOING INSANE WITH CHEERS!!! THEY CAN'T HEAR THE VOTE!!!
UPDATE 11 (12:53am ET): FELLOW FEMINISTS, TUNE IN NOW!!! GALLERY IS GOING INSANE!! GOP CAN'T HEAR THE VOTE TO ORDER THE PREVIOUS QUESTION! It's beautiful!!
UPDATE 12 (12:58am ET): GALLERY STILL CHEERING AND CHANTING! This is what democracy looks like!! T-minus 2 minutes!!!
UPDATE 13 (12:59am ET): Lt. Gov. asking for order. Gallery getting louder!!!!!!!
UPDATE 14 (1:03am ET): Gallery chanting, "SHAME, SHAME!" Did they do it????
UPDATE 15 (1:06am ET): President of Senate (prick) looking for some kind of motion. I think to extend session past midnight.
UPDATE 16 (1:13am ET): YOU GUISE... I think they are arresting people in the gallery for chanting!! :( They are chanting, "let her go!" They may be clearing the gallery out too. So much for democracy...
via paranoid_shiksa_feminista:

:( (1:23am ET)
UPDATE 17 (1:24am ET): I can hear someone saying, "Wireless microphone? Lock it up!" Over and over. Bet they didn't mean to get that broadcasted!
Also via paranoid_shiksa_feminista:

Lawyer GTers, is that even legal??? (1:33am ET)
UPDATE 18 (1:48am ET): Senate livestream just went dead to upcoming senate events. Everyone I know is confused. Consensus is that the Senate declared SB5 as passed. I expect there will be some lawsuits/challenges tomorrow based on the abominable behavior of some of the senators and govt officials today (I am looking at you Lt. Gov. Dewhurst). Fingers crossed for ultimate victory for women's rights!


LAST UPDATE 19 (2:07am ET):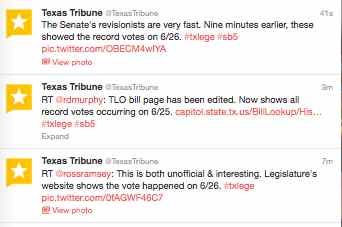 SHOCKER