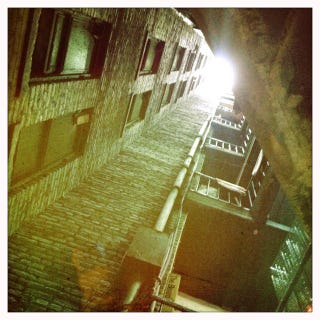 Edited to add: The peekture is deceptive. The shaft was no more than 9 x 9.
In my whole life & more NYC buildings than I can count I have never seen an interior balcony. It is open to the air at the top and the shape of an elevator shaft. This was not a fire escape; there were no stairs. It was just an interior open air balcony on all 12 floors, with an exit to the interior stairwell from it. I was awed by it, so sharing.
Has anyone else seen this, too?
Also, I've just learned from y'all that STEWART IS LEAVING???? WTF?? crying...