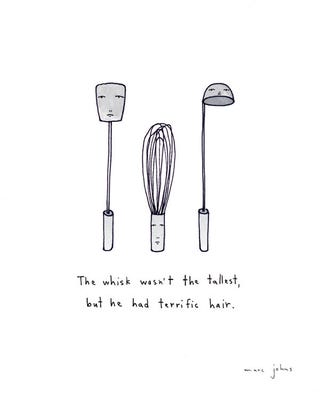 So, I obsessively buy art. It's my favorite. And I LOVE to share artists.
I haven't bought any original or LE prints for my new place, those require a lot more thought. But oh man have I ever been buying up prints.
1 & 2 - Marc Johns. Marc Johns is fucking hilarious. He sells prints, has a few books and also sells on Society 6. You can buy his original drawings for around $80. I bought the Fuck Art print and one about looking through a paper towel roll to see to the other side of the universe, for Tate's room. Considering the whisk print for the kitchen.
3 - Aurore de la Morinerie is an artist I've worked with, she does gorgeous figurative watercolors. I will probably get a smaller print, but I definitely want something of hers.
4 - Kristina Krogh is this Danish artist I just discovered and OMG do I love her. This is, like, right up my alley...graphic bur organic.
5 & 6 - I am obsessed with abstracts right now. Like, crazy obsessed. These are a few I am eyeing, from Jaime Derringer and Xochi Solis.
7 - Alright, so this is like a new design fad, but I don't even care. These Warhol prints were produced for an exhibit at the museum of modern art in Stockholm. They WERE only available at the museum shops in Sweden, so I bought one from someone off the funky Swedish eBay. Now, of course, the museum is selling them online. Because that is my luck.
8 - Ah, girl smoking. From Majeta. Another super awesome artists I've worked with—can you believe she does all this shit DIGITALLY?? I love this print so so so sooooo much. I got it HUGE.
9 & 10 - I get the major professional envies from Scott Hansen. I love his work. He's also hot. Oh, and also, he's motherfucking TYCHO. I bought both of these prints yesterday.
So, what artist do you love?? Share share share!