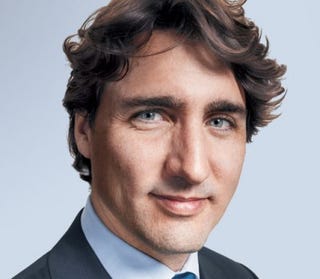 Justin Trudeau, current Liberal Party Leader and future Prime Minister of a wonderfully broken yet brimming with potential Canada has screwed the pooch yet again.
This guy consistently acts first and thinks...I don't know, does he?
The two MP's approach him and alert him to the harassment they experienced by his party MP's and ask for anonymity and he turns around and suspends his accused cabinet members! Making the whole thing blow up. WTF Bieber?!
His approach is well out of order:
1. At the time the women came forward they did not want to go on record and wanted to keep the story out of the news and the public eye. FAILED.
2. No formal complaints means no formal sanctions. He suspended cabinet members without any investigation or process. MP's still have some rights even if they stand accused of heinous crimes. JT ignored this. FAIL.
3. He was so pleased with himself at first now he just hiding behind the bureaucratic nightmare game of tossing the buck to avoid accountability for his shitty decision. FAIL.
I was seething watching Power and Politics last night. Once again the focus is "oh those Lady MP's should formally complain. Oh those poor man MP's their careers and lives are over. Oh what could JT have done differently? JT had no choice. Those bad women boxed everyone in a corner." Except for one panel expert who was defending the ladies right to complain and demand anonymity.
What could JT have done? A bunch of stuff. Consult the Attorney General to find out what the legal procedures are, consult experts in harassment in the workplace, consult the NDP Leader, consult with the victims of the harassment. Determine if there are other victims. Remove the accused MP's from any projects of committees that would have them in direct contact with the victims. Gather intel, gather advice, proceed judiciously. Take steps to create a reporting system which allows the victims dignity and gives them a safe place to voice their issues.
All he had to do was think. Stop. Think. Get informed. Not some knee jerk hero of the hour reaction. Comes across as politically motivated to me, just shinning up his image.