OK. I am perhaps overly concerned about the high-waisted jeans trend that has already hit parts of America that is not the midwest. I feel like it took me a long time to get used to how tapered/skinny jeans are hip again and it took the fashion industry about forever to make ones that weren't awful. I finally have two fabulous pairs that are just the right combo of stretch and denim and are cut just fine. Not too low-waist, certainly not high-waist.
I want to look semi-current but am afraid of a Jessica Simpson situation. You know the one I'm talking about?
Poor gal got so much flack for that outfit. The pockets were bad, the belt and tucked in shirt were bad…the jeans are bad. Your abs could grate cheese and those pants probably aren't going to be fabulous.
So, how exactly does one wear the high-waisted pants trend without them turning into 'mom jeans'? I get that tucking in your shirt isn't going to help but don't high waists sort of emphasize any belly while flattening the butt?
Mom jeans never went out of style here in the midwest. I'm sure I can still find these easily at Kohls.
I saw 'cute' jeans which to me, just looked frightening.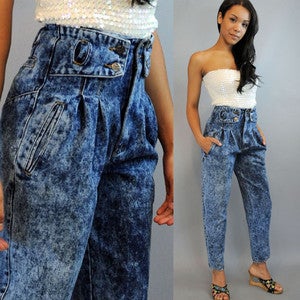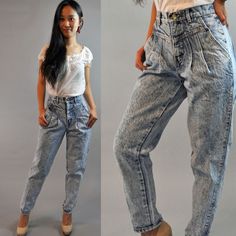 These seem like pants that are only going to work on the very young and very slim? I like being able to stay relatively on trend but this one really has be baffled. I feel like it's going against all the 'rules' about flattering silhouettes and colors - like slim cut and dark wash are always going to look a little more 'put together'?