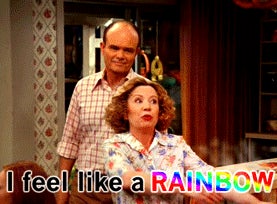 I got posting privileges last week (yay!) but wanted to wait until I wrote something *s*p*e*c*t*a*c*u*l*a*r* before posting, but versus spectacular, I think I'll just go with something sweet.
I have Trigeminal Neuralgia on the left side of my face. I go through periods of not being affected at all by it and then periods like right now where I'm asleep more hours than I'm awake to keep the pain away. If you don't know what it is- the left nerve that runs up and down the side of my face sends a constant pain signal. I have a procedure scheduled for September 3 that should help or relieve all the pain (hopefully) for about 6 months. I have had it done 5 other times- it works, it's just temporary. Last week the pain was so bad my Mom came to town, took me to the doctor and then took me home with her to visit for the weekend. I came back on Sunday- my husband picked me up halfway from where my parents live (a really terrific friend picked me up ¼ of the way from their house and drove me to her's- I feel like a small child in a relay race). The weekend was a really nice break & I was able to go shopping with my mom & take a fucking breath.
My husband and I spend so much of our time surrounded by my health problems- intense pain, mood swings, etc. that sometimes it feels like we are drowning in it. But my husband is the one who always keeps this crazy show going, so he rarely acknowledges this drowning feeling. Tonight on the way home from work he did- he's not shy with his emotions it just takes a lot for him to say that he's scared about something that has to do with me.
Oddly enough, the person I most love in the world admitting they're scared about all of this was really reassuring.
So, ta*da! You guys are the best for all the great stories, conversations and everything- it's keeping me sane!