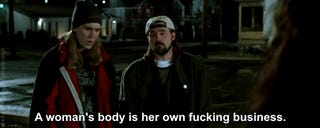 Hey GTers. On October 3rd The Campaign Life Coalition is organizing a rally to oppose government funding of abortion in Manitoba.
While this would certainly never come to fruition in Manitoba (NDP provincial government would NEVER let that happen) I am going to a pro-choice counter rally against the pro-life rally (they are at the same time and place).
I was hoping you guys could give me some good ideas for pro-choice slogans to put on a poster, or a sign.
This is my first pro-choice rally, I am both super excited and a little nervous!
Thanks Hivemind!
ETA: Your suggestions have been GREAT so far!
Here is a little more info, I am not afraid to be super confrontational with my sign / poster. I am hoping to get the poster to say something about the government funding aspect since that is what the rally and counter rally are about. But damn, the phrase "government funding" is not very poetic. Sigh.