I'm getting ready to do my first real quilted quilt (I've sewn tops and squares before, but always finished it off as a tied quilt) and I'm feeling a little bit overwhelmed about what I need or don't need!
I have my quilt top, and I am ordering this batting, as well as clear nylon thread because I have a ton of different colors in the quilt top, but please tell me if that is wrong!
My quilt top is 36.5 x 36.5 so it's not huge, although that seemed like the right amount of batting to get? the pattern is this very simple diamond one below if that makes a difference, where there are 9 9.5 inch squares and two inches of border fabric between each square: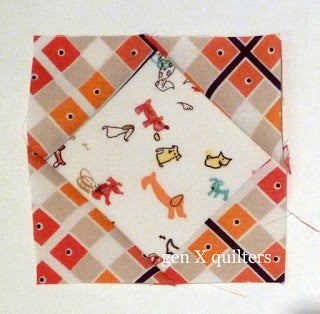 So my main questions are:
1) Binding - Bias tape is the best way to go it sounds like? I'd like to make my own - can you make bias tape where there two different fabrics on each side? i.e. one side matches the backing of my quilt and the other side matches the front? If I make my own bias tape with a single fabric, I should get a 2 in bias tape maker to make the double fold 1 inch binding, right? If I do the double fabric sewn together to make the binding.... how would I do that?
2) Walking foot - do I need a walking foot? They seem a wee bit expensive but it seems like they do make a big difference. If it makes it look much better and saves me a lot of hassle I will fork over the cash (although please feel free to recommend a good but cheap one that would fit a Brother machine - I've seen prices from like 10 dollars to 60 so I'm a little confused)
3) The quilting itself I just go over seams, starting from the middle out?
Any other tips and tricks and advice to give me? Why is sewing only like 10% sewing and like 90% cutting things up and getting everything ready to actually sew?