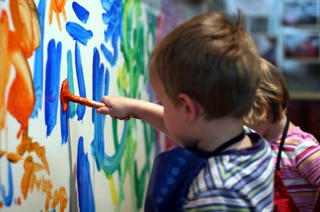 8. The little girl who did not speak at all, but would give me an awkward sarcastic smile anytime I asked a question. The only thing she said to me was "I'm done now." And then gave me a mean smile as she walked away.
7. No emotion boy. A little older than the activity table, he pretty much just stared expressionless at us any time we asked a question.
6. "Special Snowflake Child". Nothing personal against her, she was a great little artist. But she was a packaged deal with her annoying helicopter mom, who needed to praise her every movement at all times. To her mother, she is the most intelligent, most beautiful, most talented thing of all time.
5. One upper kid. She was really fun to talk to, but dammit if she didn't have a story to outdo every other kid's story.
4. Random kid. He was really enthusiastic about every activity, at least until a staffer came by and told him he couldn't be at the park unsupervised. Party crasher.
3. The littlest thief. He was the first kid at the table, and very shy to begin with. Once he warmed up he was a delight. Pointed at a package of pipe cleaners and asked, "What's that?" explained we could use them to make shapes. He liked that idea, so he walked away with a full package of unopened pipe cleaners. He later came back, made dinosaur cat toys, and we helped him turn his balloon into an octopus.
2. Egg boy. We gave the kids plastic Easter eggs to color in and turn into cat toys. This boy was very methodical about his art, coloring in both the outside and inside of his shells. He then used his new work of art to collect sand.
1. Shy Princess girl. Her dog was named Princess, and she was very sweet and agreed to every activity. She was the last kid of the day I helped, and she was just a delight.
Bonus favorite person all day: the gigantic guy I chatted with, walking a 3lb daschund wearing a sparkly pink collar. He admitted his friends clowned on him for having a tiny dog, but it was clear he loved her to pieces.