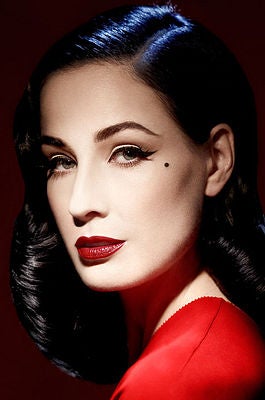 Thank you to everyone who helped me out yesterday with suggestions for red lip color! Tonight I kidnapped a friend with a cosmetology license and made her go shopping with me; I needed moral support to prevent from freaking out at the sight of a bold, vivid color on my face and running back to my subtle blackberry tints. Amazingly, it wasn't long before we found the PERFECT red and I am feeling INVINCIBLE. God damn, why haven't I tried a red lip before now?
I sampled most of the colors/stains you guys recommended (and they looked great! You've got great taste in cosmetics, ladies of GT), but found my HG in Bite Beauty's Zivoli. It's a rich, creamy brick red, not unlike what the delightful Dita is wearing above. In fact, I'm feeling quite glamorous, polished, and Dita-esque even though I'm currently wearing it with PJ pants, a tank top, and an unkempt tangled nightmare of a mane. Instead of last-minute prep and practice for tomorrow's Board exam, I'm dancing around the house and ogling myself in every available reflective surface.
Does anyone else have a cosmetic or an accessory that infuses them with a feeling of raw power and awe-inspiring badassery?