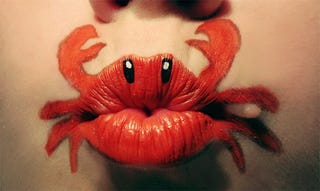 It's time. . . I'm ready for a true red lipstick! Before I start wandering around the money pit that is Sephora, I'm looking for some recommendations so I have a good starting point.
I've got a pale Nordic complexion with pink undertones, blue-grey eyes, and I dye my hair (shoulder length, wavy/curly, with bangs) espresso brown with a hint of dark red. I also wear glasses (current frames are metal eggplant and dark dark olive, if that makes a difference). I tend to wear blackberry/black currant lip stains, usually Bite Lush Lip Tint in Black Currant, Fresh Sugar Plum, or Clinique Almost Lipstick in Black Honey. So, given that beauty background, what do you recommend as far as actual true red lipstick goes? Clearly, I'm not into brights, but I want something bolder and redder than what I've been wearing.
I'm intrigued by MAC Dubonnet, so can anyone either yay/nay it, or maybe throw out some similar shades that can be found in Sephora?