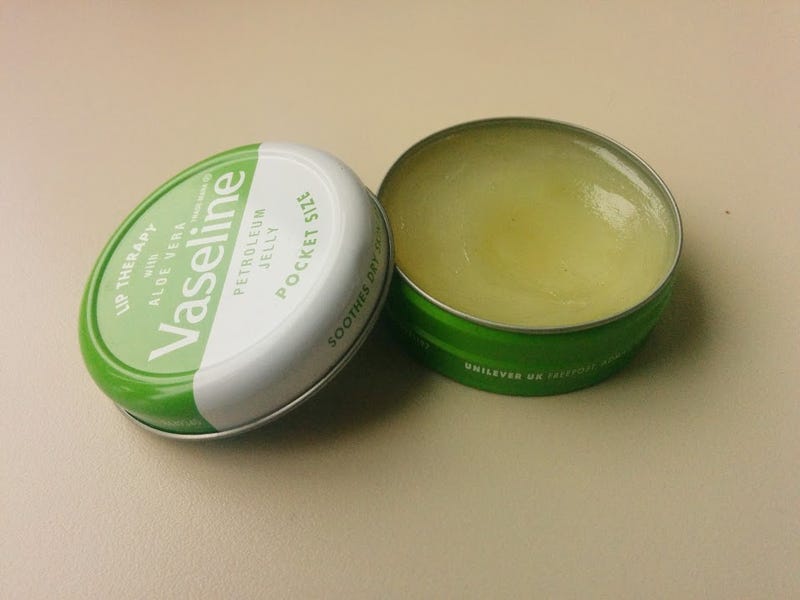 Last week I announced that the Vaseline Lip Therapy was going to be my first rehab review. I have since realized that announcing the products ahead of time is somewhat pointless, so from now on you'll just be getting reviews instead of previews. I hope that's welcome news — if you were dying to know ahead of time what I'd be talking about the next week, let me know and I can re-introduce it.
On that note, let's dive in.
I do see the point of dividing a review up into a series of categories to explain how the product performed in each. With that said, it can sometimes be frustrating when the individual parts don't seem to correlate to the final grade or conclusion. So I will say from the outset that there will definitely be times when a product will seem to tick a lot of boxes, and yet I don't wind up liking it that much; and other times when a product seems to fail the individual tests and yet still comes out well in the end. Ultimately cosmetics aren't a quantifiable thing — it all comes down to emotion and has to be evaluated on that level. But all the same, it's good to break it down into its parts and put it through its paces.
Portability
Lip product is one of the only items in your makeup collection that you need to have on hand all day. As a result, a product that's easy to throw in your bag for a quick and discreet touch-up is important. Here, Vaseline succeeds where other products fail because I've found with other lip products in tin containers is that they can be hard to unscrew and are easily smashed up if they're knocking against your wallet, phone and anything and everything else in your bag.
With Vaseline, the lid pops off easily when you want it to, but stays put the rest of the time. No nasty surprises await you when you fish around in your bag for it. And while the container can get squished, it definitely holds up much better than many of its counterparts.
Ease of Use
In terms of ease of application, it all depends on your comfort level with products where you have to dip your finger directly into the balm to apply. Germaphobes will likely have a problem with the Vaseline lip tin for that reason, and hauling around a lip brush (even a retractable one) can be too much extra fuss for a product that you might find yourself re-applying 10 times a day.
But if you aren't that worried about germy fingers, the Vaseline tin has a really nice, simple design that makes it easy to keep out on your desk without making it look cluttered or fussy. I have mine next to my keyboard as I type this and find myself re-applying a little more often than necessary just because it's right there.
Texture
To begin with, this isn't just a bunch of Vaseline in a smaller tin, so it doesn't feel anywhere near as thick or greasy as the yellow petroleum in the big blue tub. Instead, this is definitely a thinner and slightly glossier consistency which is easy to work up with your fingers and apply directly onto your lips.
While not as greasy as the original formula, the Lip Therapy is still somewhat oily, and while it's fresh on my mouth I sometimes have an urge to rub it off because it feels much heavier on the skin than a normal lip balm. That's in part because Vaseline isn't meant to moisturize your lips — it's meant to act as a barrier against the elements. So you should always be hydrating and moisturizing your lips in the morning and then effectively using Vaseline as protection for the rest of the day. This definitely won't be your friend if you're already dealing with a chapped, scaly mouth.
Scent
The Lip Therapy line comes in a number of different types. The Aloe Vera one that I was using this week has a very faint smell similar to lemongrass. Not unpleasant but not actively enticing, either. But totally unnoticeable once it's spread out on your skin, so ultimately irrelevant.
Longevity
This is a bit of a tough category, because the "greasy" feeling probably goes away after about 10 minutes or so, and after that point it can be hard to tell if it's still on there or not. In some cases I've gone to wipe away food and found that even though I couldn't "feel" the Vaseline on my lips, I still came away with a bit of the product on the back of my hand. So it does seem to stick around for a long time (although I do just like re-applying regularly).
Efficacy
Again, this is a hard one to prove. It's been cold and very dry here in Vancouver in the last month and I've found that my lips have gotten a little flaky, although they feel plush and plumped up when the Vaseline is freshly applied and tend to wear down a bit as the day goes on if I don't remember to keep putting it on. I can definitely say that the Vaseline hasn't hurt my lips, but I wouldn't swear on my life that it's helped them, either.
The Swatch
Obviously it's difficult to swatch a lip balm, but with a flash setting this hopefully gives you an idea of how subtle the sheen of the Vaseline is. It didn't show up at all in natural lighting and is very faintly visible with full flash. So you won't be walking around with an obvious, dripping lip gloss mouth.
Final Verdict
The greasy feeling really got to me by the end of the week and I started wishing I could switch to something else. Even though the tin is very portable and it's strangely fun to apply at my desk, I don't know that this product really helped in any major way and the sensation of having it on my lips started to bother me.
It's not something I'm prepared to throw out of my collection just yet, but I do want to try out the other varieties that I have to see if the texture issue is confined to the Aloe Vera or is a constant with the product as a whole.
In any event, I'd probably give the Vaseline Lip Therapy with Aloe Vera a 6/10 for now. And I wouldn't actively recommend it.