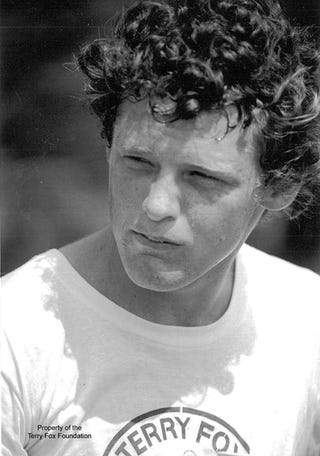 Thirty-three years ago yesterday, a beloved Canadian hero passed away.
When Terry Fox was 19 years old, he was diagnosed with osteosarcoma in his right leg which was amputated to save his life. While Terry Fox was in hospital, he was struck by all the other cancer patients he met, and vowed that when he got out, he would do something to help them.

He decided to run across Canada to raise money for cancer research. After a period of training, on April 22, 1980, he started out from. St. John's Newfoundland on the Marathon of Hope with the goal of collecting $1 for ever Canadian for a total of $24 million.

During the course of his run, he averaged 40 KM a day. Then on September 1, 1980, near Thunder Bay Ontario, close to the midway point of his run, Terry Fox began to experience shortness of breath, and chest pain. He was taken to hospital, where the horrible truth was discovered, the cancer was back. It had metastasized into his lungs. After 143 days and 5 373 km, Terry's run was halted.

The CTV television network organized a telethon to pick up the fundraising where Terry had left off. By the time the cancer came back, he had raised $1.7 million, which raised a further $ 10.5 million. By April of 1981, Terry reached his goal of $24 million.

In June of 1981, he developed pneumonia and fell into a coma, passing away in the early morning on June 28, 1981.

In September of 1981, the first annual Terry Fox Run was held in Terry's honour spearheaded by Isadore Sharp, the founder of the Four Seasons chain of hotels. Sharp had lost a son to cancer shortly before Terry began his run, and had been a big supporter of the Marathon of Hope. Since then the annual runs have taken place in 60 countries.