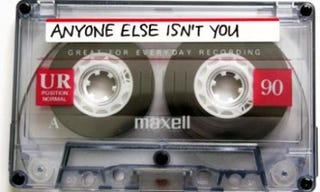 Hello friends.
It's been a long time since our last (and first!) mix tape challenge. We had planned on doing these once a month but we (read: me) got a little caught up in other obligations.
So better late than never, right?
The theme for this round is "5 x 5" — top five favorite songs by your five favorite artists.
That's it! Easy-peasy right? Especially compared to boiling down your personality into one 90 minute playlist.
Don't put your answers here! I'll put up a second post on Monday for your lists and bump the thread throughout the week so everyone has a chance to participate. You can keep it simple and just give us your theoretical playlists. If you're one of our many overachievers, you can put up a link to a youtube playlist, or Spotify or 8tracks, or however you want to communicate your mixtape. (Please do not plan to post 25 youtube clips however — that will slow things down considerably.)
Edit: to clarify since it was asked, that's 5 songs by each of your 5 favorite artists, so 25 in total.