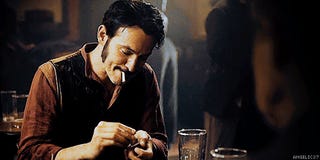 I just finished season 1! The amount of GoT actors on this show makes me giddy. There's Bronn of course and special appearances by Ser Jorah and Ser Berristan (so far!).
But the thing that makes my proverbial loins quiver the most is the costumes. Oh the costumes! I think I'd 'rip' someone for MyAnna's wardrobe:
I'm starting season 2 but I have to remind myself to pay attention to the plot and not just sit there, hoping for MyAnna to show up and then drool over her outfit for 60 minutes.
Are there any other Victorian/Steampunk shows out there with really good costumes/set decoration? I need more visual yummies in my life.