With all the hype surrounding the freezing weather in Pasadena and how it may affect parade goers and the floats i got all misty eyed at remembering the time I went with my grandma and we were afraid it was going to rain on her first time seeing the parade in person. My grandmother's lifelong bucket list wish was to see the Rose Parade in person. Ten years ago when i found myself not only living in Pasadena, but close to parade route, I set out to make that dream come true.
I don't completely understand my grandma's devotion to this parade. But i do know that it was her desire to watch it that encouraged her to learn how to program her VCR. And when that technology went by the wayside and they couldn't afford a DVR, she used her first computer to find out when and if the parade coverage was going to be streamed, just in case she missed it, or granpa decided to hog the tv to watch the plethora of bowl games. And in the years that she was fighting breast and thyroid cancer, this parade was sometimes the one thing that got her revved up and ready for the new year. It was our alarm clock for the new year.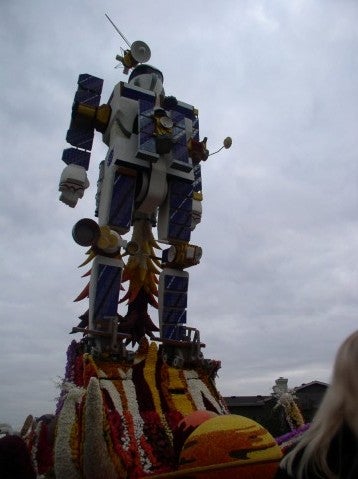 "I'm on my way!!" My grandma called me early two days before the parade to let me know that she had boarded the train for her all day journey down. Because she had just recently finished fighting her cancer we decided that it was best if she didn't drive and instead took the bus and train combination offered by amtrak to get her down from the top of the state. When i picked her up that night she not only had her luggage but a now empty cooler and all sorts of tales about the colorful people she met on her journey.
Unfortunately the day of the parade is a blur to me. I remember getting up early, glancing at the dark clouds above us and hoping that the weatherman was wrong and that it'd stay dry long enough for the parade to finish. The weather forecasts the night before were full of doom and gloom about raining on the parade. We teased my grandma about bringing the rain with her for most of the night. I think it rained overnight, but i'm too lazy to verify this at the moment, but I do remember being bundled up and bringing an umbrella with us, just in case.
The highlight reel in my mind of the parade is watching my grandma's face light up when the Odd Fellows and Rebekahs come down the road. She was raised by her grandmother who was a member of that group. I also remember her being absolutely delighted with the float from Taiwan and of course all the horse groups. She smiled and laughed throughout the whole thing, which if you've ever sat through the parade you'd know that's quite a feat because the parade is a long one! I'm sure if you interviewed my grandma she'd remember all the details and her favorite floats. I think i'm fuzzy because i was more concerned with her experience than mine. After all i lived near the parade route and had already been several times and even camped overnight once for the parade (it was cold).
When the parade was over my grandma didn't want to leave, we just stood there waiting for something. If the sky hadn't decided it was time to open up and rain on us we may have been there for most of the morning! We packed up and headed back home. We were going to try and go see the floats at the viewing station after, but decided against it because we heard that the rain and pretty much ruined them. So that day we went for lunch, hung out around the city and visited with friends. Called grandpa to check in and were ignored because he was busy watching the Rose Bowl game (his favorite thing about Pasadena). The next morning i put my grandma back on the bus/train ride home and probably cried because i missed her.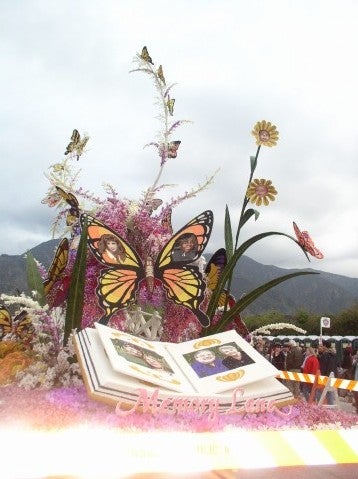 My grandma did get to see the parade during a non-rainy year and i have more pics from that year. She also had a blast and the experience was totally different because we were there with my church group who had hot chocolate, cookies and lots of people around her age to talk to her. We also went to the float viewing after which she loved! But it wasn't her first time, but it was in many ways a nicer time. I do wish we could find a way to bring my grandparents down for one more parade, but with them being in their eighties and medical conditions it doesn't look possible. So today i got up and watched the parade (on tape delay) and texted my grandma about it.
So what's your favorite New Years tradition or memory?
Post Script: And as for the this years theme, my grandmother is my inspiring story. She was orphaned in the midst of the great depression, was a single mother in the fifties and sixties, survivor of two different kinds of cancer, kick-ass fisherwoman and proud member of the Chinook tribe!