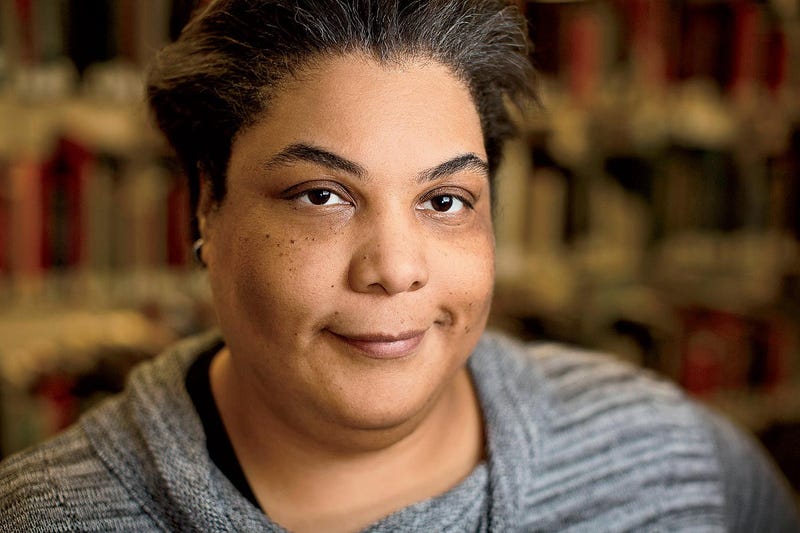 WHY DID IT TAKE ME SO LONG TO READ ROXANE GAY!!?!? The world is so much better now that I've read her books:
Because now whenever someone (aka students) asks about feminism, culture, general non-fiction and fiction books to read, I can just tell them to go read Roxane Gay.
I've been listening/watching interviews with her and I realize that part of why I love her so much is that she's kinda awkward speaking in front of people (which she admits is a skill she's had to work on because she's afraid of public speaking). But she always answers questions clearly and with a lot of thought even though she's uncomfortable. She's just so honest and strikes me as a real person moving through the world who is simply capable of communicating that through amazing writing skills. The combination of giving zero fucks about being quiet about shit going on (but also admitting that her feelings get hurt when she gets all the hate) but still being plugged into pop culture with a healthy dose of self awareness of both her priviledge and her oppression just makes her writing feel both timely and timeless.
And having seen her interact with young people (i.e. watching her interviews/speaking engagements on college campuses) I find her obvious care and encouragement with her responses to young people simply lovely. She's clearly a teacher and cares about her students and the people she influences. She is also unafraid to swear and be herself in front of them. I strive for this everyday in front of my students, I like finding others like me :-)
I have Hunger on reserve at the library, but I think I'm just going to go out and buy all her books to give them away eventually as gifts (and to underline/dog ear all my favourite parts of her writing)
Fangirl on your favourite public figures!
ETA: OMG I JUST WENT TO HER TWITTER AND SHE SHARED HER CLASSROOM ETIQUETTE WRITE UP AND I JUST DIED BECAUSE I DO ALMOST THE SAME THING BUT HER'S IS FUNNIER AND BETTER WRITTEN IN GENERAL (duh.) +1 for the top 40 song, I personally yell out "DANCE BREAK" and start dancing in front of everyone...