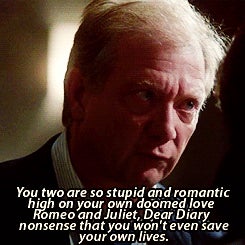 MEREDITH'S DAD SHOULD DIE IN A FIRE! (oh wait, that's prob not good for a plane crash episode).
As you may or may not know, I started down the Scandal Rabbit Hole last night.
I'm a big Shonda fan (don't you be mean to Meredith!) but wasn't sure if Scandal was going to make it through the first season hurdles that Grey's DID and Off the Map didn't. Also, did you know that Shonda Rhimes wrote the teleplay to Introducing Dorothy Dandridge? And there was a Columbian version of Grey's Anatomy?
So, I'm diving. And yes, there's cognitive dissonance with the cross over casting...
OMG MEREDITH'S MOM!!!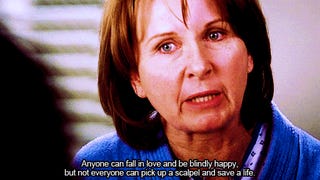 ... AND TONY GOLDWYN!!!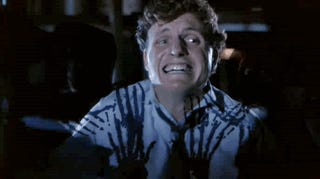 But I'm enjoying it. Downright LOVING some of the moments such as jump cuts and soundtrack (though being an ABC owned show means they got the big money). We've got the newbie being introduced into the plot which helps us all jump into the fast paced political/spin world and the writing occasionally rivals Sorkin with it's rapid fire pace (hello, Joshua Malina!).
The drama being within the White House helps to raise the tension, emphasize the "scandal" element, and establish tone. It's makes the difference between Scandal and The West Wing very obvious. Also with the whole Republican thing.
As I move into the campaign flashback episode, I was thinking about the "shaming" that goes on with the toe-sucking literacy guy as well as much of the show. Of course, it's more leverage to get people to do something (and since Olivia convinced me in the pilot that she's a definite White Hat, it's normally something good) but it's still feels like shaming.
What's awesome is that the tv shaming isn't about the stereotypical things. For any other show, the Chief of Staff being gay (especially for a Republican administration!) would be an episode all on it's own and the affair with Olivia would have race issues brought up near constantly.
AND OMG, THEY STOLE OR ALMOST COPIED "OUT OF SIGHT"'S MUSIC/EDITING STYLE WITH THE HALLWAY/PRESIDENTIAL NOOKIE SCENE!!! It's awesome so who WOULDN'T WANT TO STEAL IT but WOW.
So yeah. I'm liking it. It's early first season so who knows what's going to change.
Oooh, and now the VP Chief of Staff reveal! Wow!