Out of town I went at night to a movie theaeter to see the old 50s horror film. At very end a webpage came up and one sees an icon for the movie and other movies.
I thought they were using a 1950s reel to reel not a streaming film.

The movie was bad. There were five characters. The young couple the husband is a widower his wife died drowned by tripping into a flower pond.

It would have been better if new wife was playing along with help from ministers wife to expose him as a killer. Instead wife was totally gaslighted and she believed she was going insane again. She gave a preposperious story of how her parents died and I was convinced she was using minister as an alibi.

Instead late wife was a ghost trying to kill her exhubby I suspect she was protecting new wife because she disturbed his strangling of new wife thus saving her. The ministers wife pretending to be late wife would have worked better with new wife knowing.

Mystery: Wife's bra looked like torture yet she slept in it under her nightgown.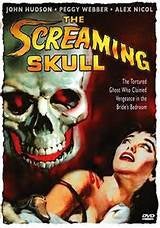 Its called a bullitt bra it looks like the kind my late grandmother bought in early 70s.
Google Peggy Webber Screaming Skull for picture.