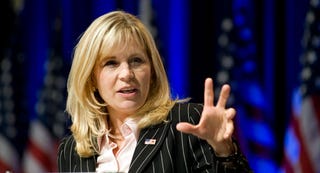 Liz Cheney is going to challenge sitting Republican senator Mike Enzi in Wyoming. The Wyoming Republican party has been afraid this would happen since Cheney moved her family there recently.
Via The New York Times:
It would bring about "the destruction of the Republican Party of Wyoming if she decides to run and he runs, too," Alan K. Simpson, a former Republican senator from the state, said in an interview last week. "It's a disaster — a divisive, ugly situation — and all it does is open the door for the Democrats for 20 years."
Liz Cheney, who grew up in McLean and moved her family to the Jackson Hole area last year, is eager to establish her Cowboy State credentials, peppering social media sites with photos of her children's horse-riding competitions and descriptions of Wyoming as "God's Country."
Get your popcorn ready, folks. This could be fun!