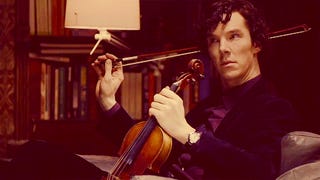 Strike up the band! Sherlock viewing party is going down today at 6pm PST!
We'll be watching the first episode entitled A Study In Pink. It's available on Netflix and Amazon Instant. We'll be starting the episode at 6pm PST but I'll post a link to the exclusive (fancy!) chatroom at 5:30pm so everyone has time to get in before we start.
I've been playing around with ChatStep and it's being goofy about seeing gifs posted by other people. *shakes fist* It worked fine the first time, but subsequent attempts have been unsuccessful so I may have to change the venue to Chatzy which IronMam used to great effect during the WhoThon...I'll just switch to Chatzy. We're chatting on Chatzy! Yay!
So get your blue scarves, white sheets and canes at the ready! The Sherlock-O-Thon starts in under 6 hours!