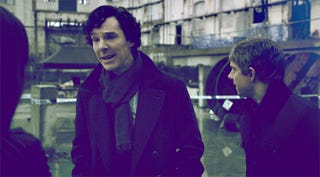 I must give a huge thank you to all who were able to attend. It was delightful, fun and full of giggles and gifs. Chimercial, our resident Sherlock Newbie, was fantastic to chat with. Aurora F figured out how to do gifs on Chatzy and has been dubbed the Sherlock Gifmistress. There was tea, there was whiskey and wine, hot chocolate, blue scarves and white sheets.
We had a bit of a hiccup at the beginning with people getting in the room (CHATZY!!!!!) but I think it was smoothed out nicely as the night went on. I've learned something about Chatzy that I didn't know before so not all was lost. The more you know, right?
Also, I completely blanked on copy-pasting a transcript of the convo as requested by Whosits. *hangs head in shame* I apologize for my absent-mindedness.
Overall, it was a wonderful time and thanks again to all who came by and chatted awhile.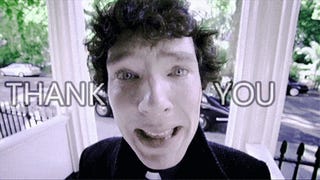 ---
NOW TO BUSINESS!!! There was talk of having another one some time in the near future. I'll have a poll up later today with possible future dates.
Let me know in the comments what might work for you all. As Thanksgiving is November 28th, I figure we could get one more in before then some time during the week of November 17th-23rd.
Even though we had an afterparty and watched The Blind Banker, we'll be watching that one again during our next Sherlock Viewing Party.